Angelonia … the Summer Snapdragon
Angelonia, native to Mexico and the West Indies, is commonly called summer snapdragon due to the appearance of its delicate-looking flowers. There are about 30 species of Angelonia native to the tropical and subtropical New World. Angelonia has a tall, upright habit reaching up to 18 inches in height. Full bloom spikes cover the plant, giving it a rich color. The foliage is fragrant, smelling somewhat like apples. This makes it excellent for cut flowers since the scent remains. Plants are easy care with no deadheading needed. Due to their heat-loving nature, they are one of the plants that can be planted even during the heat of mid-summer. Angelonia uses include, accent plant, rock garden, cottage garden, containers, mass planting, borders, window boxes and as cut flowers.
Serena Angelonia (Angelonia angustifolia, Serena series) is an herbaceous perennial grown as a warm season bedding plant here in Louisiana. Also called summer snapdragon because its elegant flowers resemble an open-mouthed dragon like our cool-season annual snapdragons. The flowers of Angelonia are much smaller and more delicate-looking and give the landscape a nice touch of color. Serena Angelonia is a bushy, spreading plant with narrow, dark green foliage, spikes of flowers in colors like mauve, pink, purple, blue and white. They bloom from May through October and thrive in our summer heat and humidity. Serena Angelonia can be used as a border planting, a ground cover or as a plant for containers. Butterflies, bees and hummingbirds are attracted to Angelonia. Deer and rabbits are not attracted to them.
Angelonias came to our region in the 1990s with the first cultivar Hilo Princess. Over the years, breeders have teased out or eliminated some of the lesser-desired qualities because the plants tended to be leggy and loose. New varieties such as the Serena series and Serenita series have expanded the color range. These plants are more compact, with a spreading habit and strong flower spikes. Older varieties of Angelonia had to be grown from cuttings. The Serena and Serenita series can both be seed grown. These plants flower all spring, summer and fall if planted in well-drained organic soil and full sun to partial shade in USDA plant hardiness zones 8 to 11. pH range of 5.5 to 6.5 is desirable. They can grow up to 10 to 14 inches tall and 10 to 14 inches wide. Spacing should be 12 to 15 inches. For stunning effect, space closer 8 to 12 inches apart as a massed planting.
Plant Angelonia in late spring through summer. Water newly placed transplants regularly to get them established in the landscape, especially if planting in the extreme heat of summer. Water less once the plants become established allowing the soil to dry out between waterings.  Deadheading is not required, but periodic trimming is recommended to control the size of the plants and to encourage healthy new growth. Use a slow-release fertilizer at first planting and supplement with liquid feed, as needed to keep plants looking their best for extended blooming period.
No major pests or diseases have been identified for Serena Angelonia in Louisiana. However, watch for aphids, spider mites, whitefly and fungal diseases such as powdery mildew and root rot.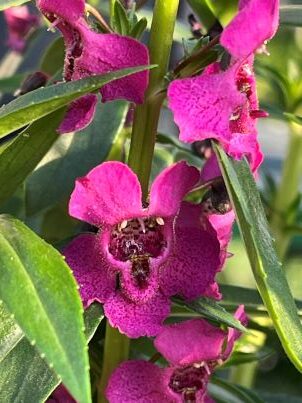 Angelonia Serenita Raspberry
The Serenita Angelonia (Angelonia angustifolia, Serenita Raspberry) is a herbaceous perennial grown as a warm-season color bedding plant in Louisiana. This plant grows as a bushy, spreading plant with narrow, dark green foliage and intense pink and lavender flowers with a darker center on spikes. They are vibrant and prolific bloomers from May through October and thrive in the summer heat and humidity. Serenita Raspberry Angelonia is a gorgeous addition to the landscape and can be used as a border planting, a ground cover or as a plant for containers. It is also fantastic for attracting butterflies and bees. Growth Habit is Compact, spreading growth habit. Can grow up to 10 to 14 inches tall and 12 to 14 inches wide. Start seeds indoors about 10 to 12 weeks before the last spring frost date. Plants may also be purchased in spring to fall from local nurseries and garden centers.
Serenita Raspberry Angelonia was named a Louisiana Super Plant selection. Among the
compact-growing Angelonia's of the Serena series, it has set the standard for excellence. Masses of flower spikes cover the plants from late spring to frost. The Serenita Angelonia's were bred to be even more compact – reaching about 12 to 14 inches tall – and still retain the outstanding garden performance of the Serena Angelonia. This makes them useful for creating a low carpet of color in the front of flower beds, they fit nicely when planted into mixed containers. They come in a variety of colors, including pink (Serenita Pink is an All-America Selection winner), purple, sky blue, lavender-pink, white and raspberry. 
All of the Serenita Angelonia colors perform well especially Serenita Raspberry. The color of the flower is unique among the Angelonia's. It is an intense pink with lavender undertones and dark spots in the center of the flower. Flower spikes appear in abundance through the summer.  The flowers are slightly larger than the other cultivars in the series. This, along with the unusual color, neat growth and abundant blooms, led to the selection of Serenita Raspberry Angelonia as a Louisiana Super Plant.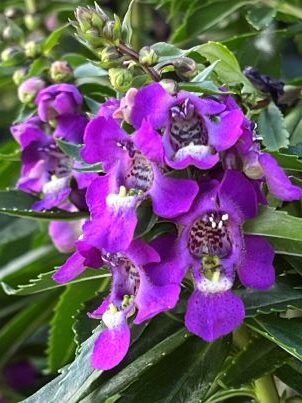 Angelonia Serenity Purple 
Because Angelonia thrive in heat, it is best to wait until late April to plant them. You can add them to your gardens anytime during the summer. Plant in full to part sun (six to eight hours of direct sun daily) as they will produce stocky plants with plenty of flower spikes. Avoid areas that are mostly shady. Because heights and growth habits vary among the different Angelonia, check plant labels for height when you make your elections. Tall cultivars are excellent for the back of flower beds while spreading and short types, such as Serenita Raspberry, are suitable for planting toward the front of the bed. All Angelonia's are outstanding container plants, either alone or combined with other plants.
Flower production continues all summer until the first frost. Some types of Angelonia tend to cycle in and out of bloom, but new flushes of flower spikes reliably occur through the summer. If plants do temporarily stop blooming, prune them back, if needed, and fertilize. As with many tender perennials grown as annuals, it will generally be a good idea to prune early planted Angelonia in August after several months of growth. Cut back one-third to one-half their height and fertilize. This will make the plants shorter, fuller and more attractive as they continue to bloom into November and early December. At that time, the plants would generally be removed to make room for planting cool-season flowers. Angelonia are perennials that have a good chance of surviving a mild winter and growing and blooming another year. Mulch them with several inches of pine straw and if temperatures don't go below the mid-to-low 20s, they should make it.  Varieties for Louisiana Landscapes Current varieties within the Serena series include Serena purple Angelonia, Serena rose Angelonia, Serena white Angelonia, Serena blue Angelonia and Serena waterfall mixture Angelonia.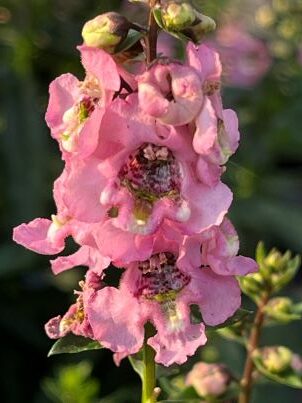 Look for Angelonia Serena Series and other varieties at your local garden centers.
*Most information from LSU AgCenter/Hammond Research Center, Articles by Dan Gill, Horticulturist, LSU, Retired; Allen Owings, Research Horticulturist, LSU AgCenter, Retired; Heather Kirk-Ballard, Consumer Horticulturist, LSU AgCenter. Visit lsuagcenter.com for more information. Photography Karen Blackburn and Cynthia Miranda.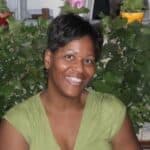 By Karen Blackburn
Master Gardener of Greater New Orleans