To increase the public's love for and knowledge of gardening
and responsible stewardship of the environment.
Established in 2006, the Master Gardeners of Greater New Orleans (MGGNO) is a non-profit, volunteer organization serving Orleans and Jefferson parishes as an outreach of the Louisiana Cooperative Extension Service (LCES).  To that end, we assist the LSU AgCenter to meet the educational needs of home gardeners in our community while providing an enjoyable, worthwhile service experience for our members.  Our members are all certified Louisiana Master Gardeners committed to sharing proven, research-based horticulture information that protects the environment and promotes sustainability.
Currently, we support several community gardens where neighborhood residents can learn sustainable gardening practices that yield reliable, seasonal crops recommended for our area. The harvest is then shared with the community. We also maintain many demonstration gardens where visitors can learn how to grow plants specifically suited to our climate  such as Louisiana Super Plants, natives, plants to attract pollinators, butterflies and hummingbirds, aromatic herbs and ornamentals. 
At the Pelican Greenhouse in City Park, master gardeners work with horticultural staff to propagate plants and staff their monthly plant sales.  Twice annually, our master gardeners volunteer at the Spring Garden Show and Fall Garden Festival held in the New Orleans Botanical Garden to provide essential staff, greet visitors, answer questions, as well as host an educational exhibit.  
Through our Speakers Bureau, we offer free educational programs on a variety of horticulture topics.  Our volunteer speakers present to groups in the Greater New Orleans area such as garden clubs, libraries, plant societies, schools as well as at garden shows. 
Finally, through this website and our social media outreach, we hope to inspire and enrich your gardening journey in Greater New Orleans with timely gardening tips, features, events and educational resources.
We know what it means to garden in Greater New  Orleans.  Come grow with us!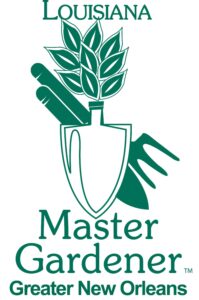 Executive Committee:
Jim Poche (2019) – President

Linda Vinsanau (2006) – Vice President

Adele Mangipano (2006) – Secretary

Helen Owens (2000) – Treasurer

Colleen Wood (2015) – Immediate Past-President
Directors:
Carolyn Sanchez (2012) – Membership

Gerry Garvey (2016)

Sharon LaHoste (2022)

Patricia Ohren (2022)
Membership in Master Gardeners of Greater New Orleans (MGGNO) is open to all certified Louisiana Master Gardeners who reside in Orleans or Jefferson parish and who fulfill the required twenty (20) service and six (6) education hours annually,  To apply, please complete the Membership Application and submit your $25.00 annual dues.
Extension Agent – Horticulture
Greater New Orleans Area
504-483-9471
504-258-3392 cell
JWillis@agcenter.lsu.edu
Office:
6 Victory  Drive
New Orleans, LA  70124

Mailing Address:
1 Palm Drive
New Orleans, LA 70124
Facebook.com/GNOGardening
Extension Agent
Jefferson Parish

CDunaway@agcenter.lsu.edu
Facebook.com/GNOGardening
Office:
1221 Elmwood Park Boulevard, Suite 300
Jefferson, LA 70123
504-736-6519
This website is an educational outreach project of MGGNO's Online Communications Committee.  Contributing members include:
Design & Implementation
Faun Fenderson 
Linda Wegmann
Photography 
LSU AgCenter
Michael Glaspel
Sandy Pitre
Linda Wegmann
Board Liaison
Content Contributors
Karen Blackburn
Chris Belser
Dr. Joe Willis, LSU AgCenter
Chris Dunaway, LSU AgCenter
Anna Timmerman, LSU AgCenter
Linda Wegmann
Editors
Linda Vinsanau
Linda Wegmann
Email Communications
Projects 
Social Media
Facebook, Linda Wegmann
Instagram, Sara Nehrbass
Speakers