(Faun Fenderson, LMG Class of 2010, gives us a mini tour of her Faubourg Marigny garden – a virtual sanctuary in the center of a city block. Here she's seen beneath her huge fig tree.)
Master Gardener Spotlight: Faun Fenderson
Please tell us a little about yourself.
(I really don't like talking about myself … I've done so many things.) Currently I am retiring from my law practice of 40 years. I have been a pastry chef, a clothing designer, a chef's assistant on a cooking show, was a wardrobe stylist for TV and videos … many other things. I also have an esoteric side: I'm an animal communicator, flower essence, energy and vibrational sound therapy  practitioner and teach many of those. On retirement, I plan to continue with the esoteric practice and classes and will be in the garden much much more!
Who or what inspired you to become a master gardener?
When I learned what a Master Gardener was and that I could actually BE one, I knew that it was meant for me!,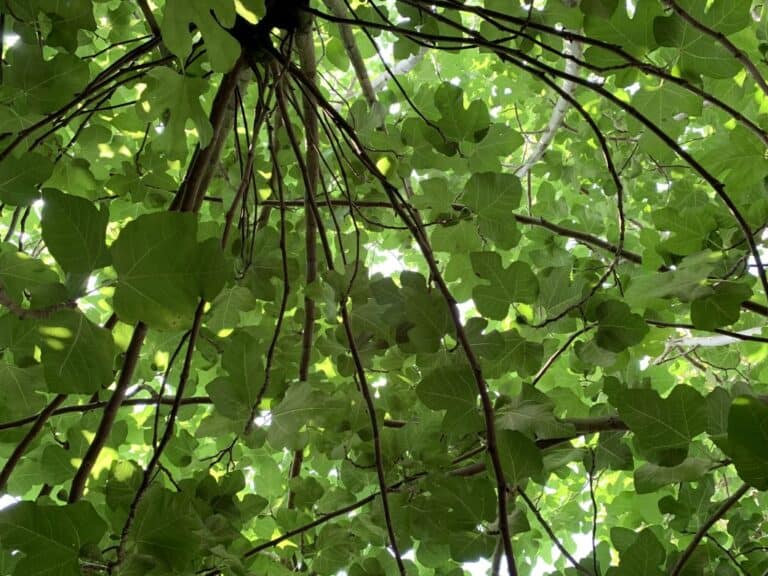 Above: looking up into Faun's huge LSU Purple Fig Tree … looks like a bumper crop of figs this year! It is said that Fig energy is capable of restoring and enhancing memory – perhaps that's why Faun enjoys sitting under it regularly!
What do you love most about being a master gardener?
Meeting other gardeners and seeing their gardens.
What MGGNO memories do you cherish the most?
Working with Karen Blackburn on the monthly Gardening Tips. She's been writing them nearly as long as I've been tending the website. We've grown together in learning what works and what doesn't. It's been a lovely digital friendship.
How do you earn your volunteer service hours?
I am currently retired from MGGNO but I participated as the webmaster from the birth of the mggno.com website in the Fall of 2010 until the middle of May of 2023 (I shared the job with two others after I retired from MGGNO at the end of 2021 to assist the new webmasters in taking over).

What gives you the most satisfaction about gardening?
Sitting in my garden each day before dawn with my cup of tea, feeling the energy of the plants in my garden., knowing that we are all creating the space together: me, the plants, the earth, the birds, the insects, and all of the other beings that inhabit the garden. Oh, there's also gardening in the rain in the summer! Getting soaked and muddy! Wonderful!
The gardenia pictured above is at the entrance to Faun's home.  Its bush is growing in a two-brick deep planter atop a concrete slab. Such lovely energy: it helps bring clarity to your thoughts and feelings, and awakens you to what you're here to do.
What is your favorite plant and why?
At the moment it's gardenia – because it's blooming so fragrantly right now! I absolutely adore old garden roses! I think they are why I created the garden. It's the pink fragrant ones that are special to me… each and every one of them: Old Blush, Odee Pink, Cecile Bruner, Duchesse de Brabant, Noisette Pink, and Peggy Martin (not fragrant but blooms her heart out). These are the ones that have endured my neglect and bloom frequently to remind me that there's so much more joy in life when you let go of the rules you make for yourself and the garden. (In truth, I love all fragrant plants … not just the flowering ones.)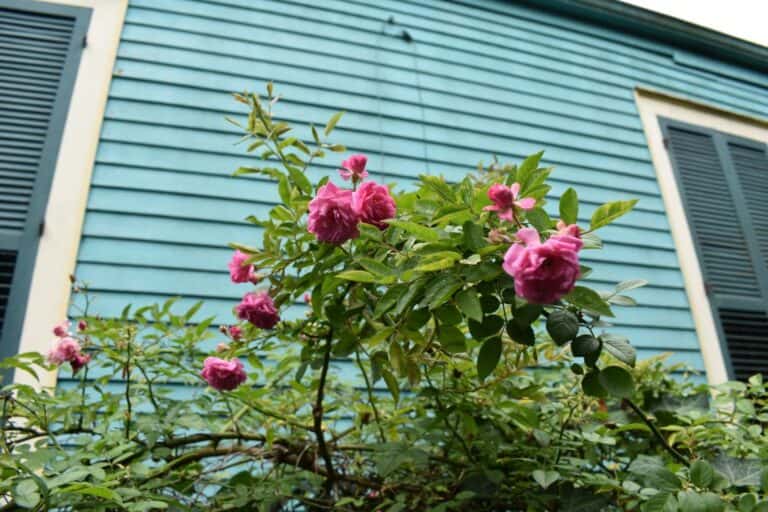 Above: Peggy Martin Rose (Rosa 'Peggy Martin') blooming (again) atop the fence.  It seems to grow and bloom without much care … telling us to let go of our rules and enjoy!
What is your biggest gardening challenge?
Time and physical constraints.  And then there is the fact that my garden is built 75-80% on top of concrete and is primarily a container garden. I've made some "planters" on top of concrete where the plants are growing in two inches of soil.
What do you love learning about most as a gardener?
Oh! So many things! Mostly I guess that there is so much to know and that I will never stop learning! I love being at this stage as a gardener where I am finally beginning to feel the garden and the plants and listen to what they have to say rather than imposing my will on them. Allowing the garden to be what it is as opposed to what I want it to be can be amazing!
What is your advice for new gardeners?
Trust your intuition.  It will always lead you to the right choices.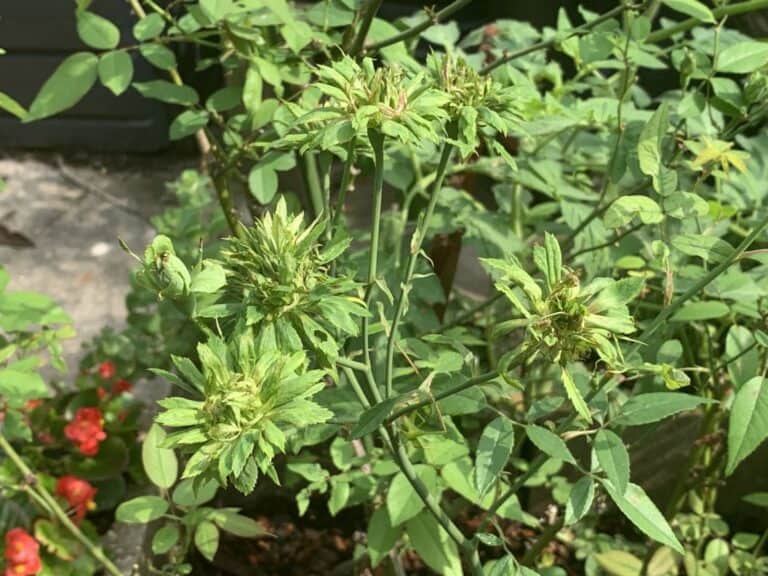 Pictured above: Green Rose (R. Chinensis viridiflora) is a very hardy China variety first discovered around 1827.  It has no flowers, no petals, and no seeds! Energetically, the Green Rose helps to connect our hearts to the earth.
Complete this sentence: "You will always know you are in my garden because you will see…."
A huge fig tree. And concrete … lots of concrete … some you may not see because plants are growing on top of it! Plants in containers.  Benches to sit and enjoy the garden. A bale of pine straw for the cats!  (Either whole for them to sit on or spread about for them to lie in during the hot summer.)   Citrus and other trees in pots … and fragrant plants!.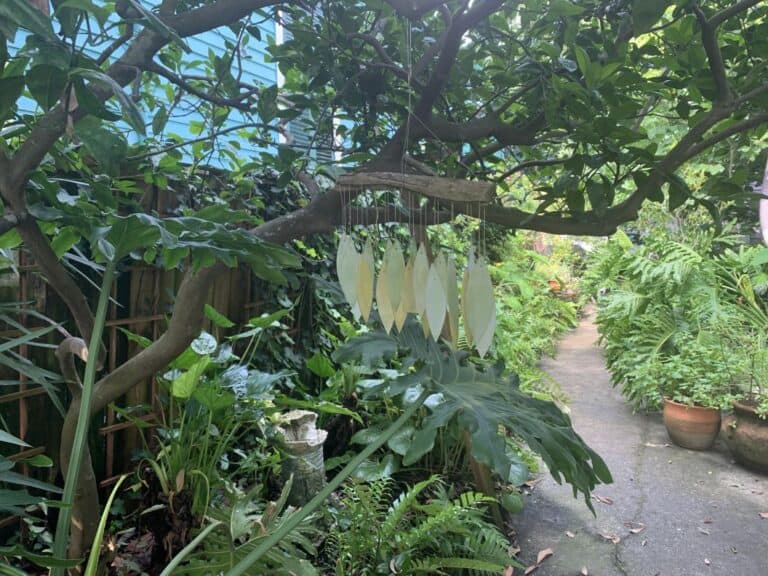 A view of the garden – looking from the rear toward the house – shows many of the features of Faun's garden: fruiting Satsuma tree in the front left, many tropicals (ferns, giant split-leaf philodendrons, elephant ears), some fragrant plants (roses not yet in bloom, herbs…) all growing either in pots or in soil "planters" atop concrete (the satsuma tree is actually growing in one of the few patches of soil in the garden).
How would you categorize your gardening style?
Patio, eclectic, tropical
What book most inspired your gardening passion that you would recommend to others?
"Plant Intelligence and the Imaginal Realm; Beyond the Doors of Perception into the Dreaming of Earth" (2014) by Stephen Harrod Buhner. A lot of science, a little "woo woo" – no pictures.  Gets a bit intense about halfway through but is very fascinating. A quote by Roald Dahl in the preface sums it up:  "Watch with glittering eyes the whole world around you, because the greatest secrets are always hidden in the most unlikely places. Those who don't believe in magic will never find it."
Lagniappe
Faun's natural garden care:  Natural (vegan) Fertilizer recipe:  per gallon of water 1 T. blackstrap molasses and 1 T. Seaweed Extract; for mealy bugs and other mold and fungus such as black spot on roses (especially good  on camellias): 1 T. Neem Oil in 1 pint water – spray both sides of leaves thoroughly and, if necessary, for a particularly aggressive "infestation" also add 1 T. Neem oil to fertilizer recipe above and feed plant.
Photography:
Sandy Pitre
Linda Stempel Wegmann