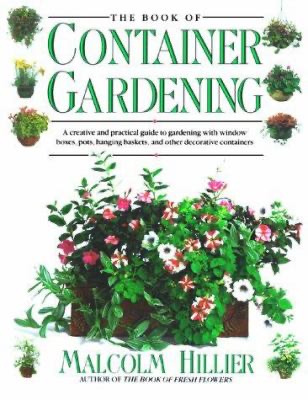 The Book of Container Gardening
By Malcolm Hillier
1990
Review by Maurice Valerio
I have tried and successfully implemented many of Mr Hillier's recommendation's within the book.  The Author provides "how to's" and beautiful photos of the various combinations of flowers, foliage, and plants for all seasons. These large photo's cover courtyards, balconies, porches, wood fences, etc. You name the environment, and Mr. Hillier most likely has a photo somewhere in the book with glorious examples.  The Author explains the principles of designing a scheme and planning it.  He then provides a wealth of information on how to care for the plants to ensure a long lasting display. Each plant within a display is named and he goes into detail as to why he picked and planted the arrangements in a particular setting.  If you are looking to display a setting in the shade, he has you covered, exposed positions, semi-shade, sun loving plants, hanging baskets, colors of red & silver, it is all covered within the book.  He also gives good advice on using what you have at hand for your containers, from mop buckets to making your own wooden window boxes. You will not be disappointed once you pick up this book and take a quick look at the amazing photos Hillier has shared.